If you've been looking for a way to relieve stress, improve
your concentration and improve your physical fitness,
I have important news for you...
Discover an Amazing Art Form That Will Completely Transform Your Life!
If you're ready to kiss your unhealthy body
and unruly mind goodbye, you've definitely
come to the right place.
I've got the goods on a great way to change your
life for the better - and it's easier than you think!

Date:
From: The desk of Chris Sieveking
Dear friend,
Having difficulty concentrating?

Feeling decidedly less than physically fit?


If you answered "yes" to any of those questions, boy, am I glad that you're here.
You know, in today's busy world, it often seems as if we have no time to truly take care of ourselves. We have
jobs to go to, work to do, children, homes and pets to take care of. It seems like our day-to-day lives are just
non-stop action, leaving us very little time to relax and recuperate. Many of us don't even get enough sleep at
night! The rat-race of our careers and the pressures of keeping up a happy, healthy family can be overwhelming
at times.
I should know, since I was once one of those people - continuously running, like a hamster in a wheel, but never
getting anywhere. My stress levels were through the roof on a regular basis - and if something bad came up?
Oh man! I would completely lose it.
The more stressed out I became, the more I could feel its physical effects. I was tired all of the time and I was
gaining weight. I wasn't sleeping well at night and I was getting depressed. I couldn't concentrate at work and I
didn't feel like I was completely present when I was home with my family.
I knew I had to do something. But what?
I knew there just had to be a way to keep up with all of my responsibilities without losing my mind. I knew there
just had to be a way to maintain my busy lifestyle - because, really, I still have to go to work and my kids still
have to go to soccer practice, right? I can't just drop everything when I start feeling overwhelmed.
I began looking for an answer, and I am so excited to tell you that I finally found it!

I Discovered That Tai Chi Was the Answer to
My Problems, and I'm Here to Tell You How
You Can Benefit From This Ancient Art!
That's right! Tai Chi changed my life completely.
A friend of mine introduced me to it by taking me along to a class with her. I have to admit it - I was skeptical
at first. I mean, I am not exactly Bruce Lee, am I? But five minutes into the class, I was absolutely hooked!
I knew Tai Chi was right for me. It was the answer I had been looking for - a way to relax my body and spirit,
while improving my concentration, coordination and posture, and relieving my stress.
Sounds too good to be true, doesn't it? Well, it is that good and it's all true!
I was so knocked out by what I found in Tai Chi - the serenity, the endless energy, the fantastic way my body
became stronger and leaner - that I had to go one step further...
I Wrote a Book Specifically Designed to Help
Anyone and Everyone Receive the Awesome
Benefits Tai Chi Can Provide
Introducing...

The Beginners'
Guide to Tai Chi
I spent months researching material for this book. I read everything I could find and spoke to as many Tai Chi
practitioners - from novice to expert - as I could. Everything I found seemed to agree with my assessment of
Tai Chi.
Tai Chi really is a miracle!
But during the course of this research, I found that, while excellent information was out there, it was not
collected into any one spot for easy reference. I had to wade through mountains of information just to get at
the key elements I needed.
And if I was having such a hard time getting what I needed, I figured others were, too. I knew that if I could
compile a book that included all of the necessary, need-to-know information, it would quickly become a priceless
resource to countless people.
That's why I am so pleased to announce the launch of this book - I can't wait for people to start reading it and
discovering how they too can completely transform their lives. I have taken all that I have learned and collected
it, forming one concise, easy to read, and comprehensive eBook. Everything you need to know about Tai Chi
is right here in these pages.
Are You Ready to Start Getting Rid of That
Stress of Yours? The Beginners' Guide to
Tai Chi is What You've Been Waiting For!
Take a look at just SOME of what you'll find within The Beginner's Guide to Tai Chi:

The history of Tai Chi - did you know that this martial art has been practiced for over 600 years? If it's been around THAT long, you know there has to be something to it!



Tai Chi Basics - everything you need to know to get started practicing Tai Chi right away - and get started
reaping its amazing benefits right away, too!



What Chi is - if you miss out on this, you'll never understand how Tai Chi will help you!


The different styles of Tai Chi - there are many that have evolved over the years and you'll want to know about them all!


Strategies and concepts you need to know if you decide to start doing Tai Chi at the competitive level - this is just the edge you'll need if you decide to enter competitions!


And Much Much More!

The Beginners' Guide to Tai Chi is packed with the tips, tricks, advice and information you need to start your
Tai Chi practice off on the right foot.
But, hey, I know what you're thinking.
You're thinking, "Can Tai Chi REALLY help me? My life is so hectic! I don't think anything will help!" I understand
your skepticism, because I was once skeptical, too...but after trying Tai Chi out, I realized that it really does
make a difference. It did for me, and it can for you, too.
Take a look at some of the amazing benefits of Tai Chi that you'll find in The Beginners' Guide to Tai Chi
Tai Chi is often compared to aerobic and Yoga exercises - but has less negative side effects and more benefits!




You will experience improved flexibility!




Tai Chi is excellent for weight loss.....




....and once you have got those pounds off - Tai Chi will help you keep them off!



Tai Chi is associated with improved immune function - kiss those colds and flu goodbye when you begin practising Tai Chi!



It is also associated with improved heart function - a strong and healthy body needs a strong and
healthy heart! Get yours with Tai Chi!



Tai Chi improves digestive function!



It sharpens concentration - imagine feeling more alert while on the job and at home!



And much much more!
But don't take my word for it! Check out The Beginners' Guide to Tai Chi and discover the awesome benefits
for yourself!
Click here to start lowering your stress today!
We don't like spam either, so we promise to never sell or give away your personal information to anyone.
The Beginners' Guide to Tai Chi is over 60 pages of the stuff you need to know to start your Tai Chi
practice. It was meticulously researched and lovingly written so that you can take advantage of this amazing
art form - and take control of your health once and for all!
But don't take my word for it! Check out The Beginners' Guide to Tai Chi and discover the awesome
benefits for yourself!
Click here to start lowering your stress today!
Take a look at some more of what you'll find in The Beginners' Guide to Tai Chi:
Why Tai Chi is relaxing - wouldn't it be great to feel relaxed and calm after a workout? With Tai Chi you will!



Tai Chi is a martial art - learn to defend yourself and get healthy at the same time!


Tai Chi tones muscles - since it is an aerobic exercise, you'll gain muscle tone and lose fat - just think, you
could fit into your clothes from college again!!


Tai Chi is easy on the joints - if you are in need of a low-impact exercise due to arthritis or other joint
problems, Tai Chi is for you!


What equipment you will need to get started - it is simpler than you think!


Tai Chi improves posture - you'll walk taller, look more confident, and boost your self-esteem.


Tai Chi improves balance - if you've ever thought of yourself as something of a klutz, you can kiss that
goodbye with Tai Chi!


Tai Chi will teach you to regulate your breathing - you'll feel more relaxed, more in sync. with your body
and so refreshed!

But that's not all! You'll also find...
The basic movements you'll need to know - get a leg up on how to do Tai Chi's graceful fluid movements!


The basic techniques Tai Chi utilizes - Tai Chi is truly an art form, and you will learn all of the techniques
necessary to perform it like a pro!


The advanced pushing hands technique -after you've mastered the basics, you'll be ready to move on to
the next level and you will find everything you need right here!


The advanced weapons training techniques - Tai Chi for self-defence often uses weaponry - find out
what weapons you will need when you reach this stage!


Qi Gong and Nei Gong - these breathing and meditation exercises go hand-in-hand with Tai Chi.....find out why

A detailed listing of what equipment you'll need - get started off on the right foot by finding out what
gear you'll need , whether you are just starting out or ready to move on to master!

And if that weren't enough, you'll also learn...
Who can benefit from Tai Chi and why - the answer is more surprising than you think!


What you need to do to get started - make what could be a complicated process all the more simple by reading this section!


How often you should practice Tai Chi and for how long - you want to maximize the benefits without overdoing it, and I'll tell you how!


The best way to find a Tai Chi teacher or class - don't bother approaching a teacher until you've seen
what I have to say!


How to prepare for your very first Tai Chi class - you won't be nervous about your first experience once you've read this advice!


What other exercises go best with Tai Chi - don't risk hurting yourself by adding an uncomplementary exercise to your routine!

Doesn't that sound good? A comprehensive guide, designed specifically with you - and others like you - in
mind? An eBook that can tell you exactly what you need to know to relieve stress, lose weight, have more
energy and become an all-around healthier person? What an opportunity, right?!
You know you don't want to pass this opportunity by. In fact, you know you can't afford to, because your busy
life is taking its toll on your health.
I know you can't afford to pass this opportunity up, too, which is why I am going to sweeten the deal even
further and make it worth your while...
SPECIAL PRICE ALERT! This amazing eBook will be sold for $29.97, but to celebrate its launch, I am lowering
the price by 10 dollars, making The Beginners' Guide to Tai Chi yours for only $19.97!
And on top of that...
When You Purchase The Beginners' Guide to Tai Chi, You'll Also Receive an Incredible Bonus...Free!
Your purchase of The Beginners' Guide to Tai Chi includes a special bonus report worth $9.97....
ABSOLUTELY FREE
BONUS: The Tai Chi Resource Report - $9.97 Value - FREE
The Tai Chi Resource Report is actually three bonuses in one!
The first section is devoted to a glossary of Tai Chi terminology and translations.
The second section is an illustrated guide to the 24 Forms of Yang Style Tai Chi Chuan. Each form is named and accompanied by a photograph of an actual person performing the move, so you can see, in detail, exactly how it's done.
The third section of this incredible bonus is a list of websites and other resources that will allow you to learn even more about Tai Chi.
In fact, the benefits from the Tai Chi Resource Report alone are worth their weight in gold and it's FREE for you when you choose to get the best guide to learning Tai Chi available today.

What Are You Waiting For? Download Your Copy Today!
Yes! Chris, please send me my copy of your highly acclaimed Beginners' Guide to Tai Chi eBook so that I can
begin getting started on my adventure today! I am ready to lower my stress levels and boost my health! I am
ready to take advantage of everything Tai Chi can offer me! I am ready to start living a healthier, fuller, more
relaxed life!
Listen, I wrote this book for you. I delved into the world of Tai Chi and came back with what I know is the best
information out there. I wrote this book so that everyone could experience the fantastic payoffs that practicing
Tai Chi can provide - just like I did! And I know that once you read this book, you will agree.
Click here to start changing your life today!
In fact, I am so convinced that this book is a must-have that I am offering a special, 100% money back
guarantee...
your mind and decide that you are not 100% thrilled with the amazing amount of information in it, I absolutely insist that you ask for a refund! And, just to thank you for taking a look at all The Beginners' Guide to Tai Chi has to offer, I'm happy to let you keep the bonus absolutely FREE.
"Are You For Real? Did You Say There's No Risk?
This Guarantee Is Rock Solid?"
That's what I said - no risk. I know this eBook is a resource that you need, and I am so confident in this that I
am offering you a 100%, rock-solid, money back guarantee. With this guarantee, you can take a full 56
days to look over the fabulous content in The Beginners' Guide to Tai Chi.
If you decide you are not completely blown away by the great information that packs every page of this eBook,
I will refund your purchase.
Your satisfaction is assured through this no-risk, you-can't-lose, 100%, no-questions-asked, iron-clad
money-back guarantee!
If, for any reason, you aren't thrilled and satisfied with your purchase, just contact me within 56 days and I will
refund 100% of your purchase price. 100%!
What I'm saying is this: don't decide now if The Beginners' Guide to Tai Chi is right for you.
Try it out for 56 full days - risk free.
If it doesn't give you the tools you need to start lowering your stress levels, if it doesn't show you a better
way to better health, if it doesn't teach you to relax your body and calm your mind, if it doesn't take you
by the hand and lead you through an open door to a brand-new, more relaxed, more focused and more
confident you - well, then, I don't want your money. I will give it all back.
That's right - you have absolutely nothing to lose...and a new life to gain!
What's more, regardless of your decision about The Beginners' Guide to Tai Chi eBook, the free bonus report is
yours to keep, just for giving it a try.
Here's how to order right now!
What is an Instant Download?
Even if you have never downloaded something from the Internet before, it's incredibly easy to do. Just follow the simple instructions.
And by taking advantage of instant download, you will also enjoy these benefits:
No shipping costs.
No waiting time, forget having to wait weeks for delivery.
No risk of your product being lost or damaged in the mail.

Click here for an instant download of the ebook. Once your credit card is approved, you will be taken to a special
download page where you will download the ebook along with your FREE bonus! It's just that easy!
INSTANT ACCESS
Purchase Online with Credit Card by Secure Server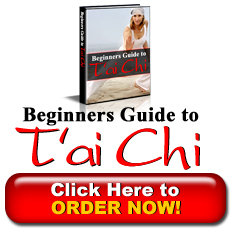 It doesn't matter if it's 2 in the morning!
You will be downloading and reading the ebook and incredible bonus within just a few minutes ... and practicing
Tai Chi forms and relaxing a short time after that!
Sincerely,
Chris Sieveking
Author of The Beginners' Guide to Tai Chi
P.S. -- In a few minutes, you can begin learning how to practice Tai Chi. With page after informative page filled
with hundreds of tips, ideas, and advice, you'll have the inside scoop on everything you need to know and do to
start doing Tai Chi and working towards a healthier you. Click here to download now!
P. P. S. - Remember - this gem will be sold for $29.97. The introductory price of $19.97 is a "Buy it NOW
before it's gone" offer... so act fast! Click here to buy it now!

P.P.P.S. -- Let's be blunt: If you pass on this offer, will you be able to lower your stress on your own? Probably
not. Click here to buy this book NOW and get the advice and information you need to make it happen!
Act now! Buy now! Your satisfaction is guaranteed. Click here!